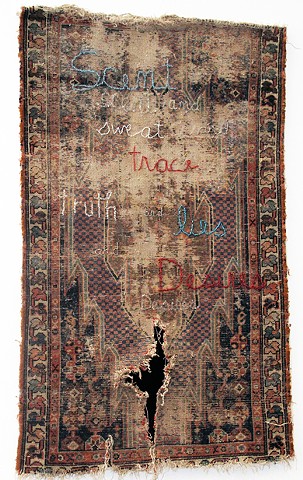 Scent and Trace of Truth and Desire
Antique rug, glass and metal beads, thread, velvet, canvas, cord, wood,
36" x 44"
2013
This installation began when I wrote an imagined dialogue between the couch and the rug Freud insisted on covering it with: a snarky, funny sibling rivalry.
I beaded one of the rugs --a threadbare kilim, made during the years when Freud was first forming his theories, with lines from the text. A vulva- like tear is also adorned with beads and velvet. To quote from The Way of the Shovel curator Dieter Roelstrate's essay, all my pieces reflect "the vagaries of "gender trouble" ... that lie at the rocky basis of the Freudian gospel, the imaginary dialogue between couch and rug touches upon the great doctor's charged relationships with the many women in his life."